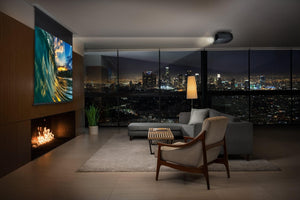 Create A MultiPurpose Home Theater
Whether it's in your living room or a different room, your home theater is a space the whole family can enjoy from watching movies, listening to music, playing video games and so much more. We create well-designed home theaters that takes size of room, distance of screen and seating, audio placement and more into consideration.
Create A MultiPurpose Home Theater
Smart Home Control · Lighting Control · Motorized Window Treatments · Media Control ·
Hidden Audio Video · Climate Control · Sound Bar · Surround Sound · Voice Control · Wi-Fi


Impressive
Large image with text box
Pair large text with a full-width image to draw attention to an important detail of your brand or product line.