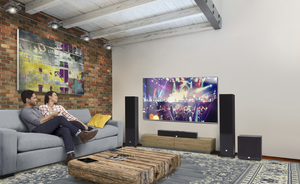 Audio Video
Brand Partners
Curated for cutting-edge tech & Support
ANTHEM
Backed by over 20 years of home-grown, hands-on-design and innovative audio engineering experience, Anthem products provide an unprecedented level of reliability and functionality; they deliver one of the industry's highest performance-to-value equations. This is just one reason why Anthem electronics are the choice of knowledgeable audiophiles, professional musicians, and engineers the world over. Anthem's pre-amps, amplifiers, and audio/video receivers give you the most advanced tools available to easily connect, control, optimize and power all of your entertainment systems.
BOGEN
For close to a century, Bogen Communications, Inc. has been a leading provider of commercial amplifiers, speakers, and intercom systems for music, paging, and educational applications. Installers worldwide love Bogen sound systems for their reliability and ease of installation. End users love Bogen products for their performance and ease of use. Bogen's emphasis on innovation provides clients with new products to meet advancing technical and regulatory requirements, for phenomenal sound transmission in any space, regardless of shape, size, or ambient noise level. Together with its NEAR and Apogee brands, Bogen Communications, Inc. serves Commercial, Educational, Pro-Audio, and Residential markets
CROWN
In 1947 an Elkhart, Indiana minister named Clarence C. Moore founded the International Radio and Electronics Corporation (IREC) which, over the years, has become better known as Crown Audio Inc. Crown Audio is an industry leader in amplified sound. Crown makes amps for cinema venues, installed sites, touring rigs, portable PA and commercial audio. With over 67 years of focus on innovation and providing the best user experience, Crown Audio is continually raising the bar in audio amplification. Acquired by Harman International in March of 2000, Crown has continued to move forward, producing numerous innovative designs.
DENON
Denon is a premium manufacturer of Audio, Video, Home Theater, Headphones and Wireless Music Systems. The Denon Difference is part of the quintessential philosophy behind everything we do. These three words and decades of innovation and engineering excellence is what passionately shapes our entire culture. Every detail of Denon product is crafted around these words with a single goal in mind: to enhance the entertainment experience.
EPISODE
When Episode set up shop in 2006, we had one goal in mind: to make the industry's best speaker. Our ambitions were high, but our beginnings were humble. We weren't scientists in lab coats, we were music lovers just like you. In crafting our first speakers, we used premium materials and made sure they were only sold through custom integrators.  
JBL
JBL has brought music to life in a way people can feel for over 70 years. From iconic concerts to the world's biggest sporting events, our award-winning sound has powered the world's most epic musicians, athletes, and venues. We unleash the power of music so you can live life to the fullest wherever and whenever. We create unforgettable audio experiences that amplify any moment. JBL creates an immersive experience in the comfort of home with the latest JBL soundbars, loudspeakers, home speakers, and more.
KEF
KEF, named after Kent Engineering and Foundry, was founded in 1961, by Raymond Cooke, who was propelled by a love of music and a refusal to compromise. He leveraged technology at every turn to ensure KEF's position at the cutting edge of audio.  Kef is a proud pioneer of excellence in sound. From their ground-breaking Uni-Q technology to the bar-setting LS50 Wireless, KEF exists to fill rooms with music as it was made to be heard, to move souls, with truly authentic soundscapes.
MARANTZ
Saul Marantz, the legend behind our audio experiences, was a true pioneer of Hi-Fi.Surrounded by music, Marantz found that a home music system that met his exacting standards in the early 1950's just did not exist. He envisioned a completely new architectural idea for sound reproduction, and employing his skill in electrical engineering, built the proof of his concept - the Audio Consolette, a Hi-Fi pre-amplifier designed for the home.In 1953, Saul's passion project became a business and the Marantz Audio Company was born from his home in New York.The spirit of Marantz has transcended geographies in the decades since. Our products are engineered by some of the most experienced in the world, and they are expertly tuned to the highest standards by the finest experts in Japan.
MACKIE SPEAKERS
Mackie products have been making music across a wide range of applications since our founding in 1989, in Woodinville, WA. Mackie products makes great-sounding, Built-Like-A-Tank professional audio gear that doesn't break the bank. From loudspeakers and mixers to headphones and microphones.
NEAR SPEAKERS
Founded in 1988 and acquired by Bogen Communications, Inc. in 1997, NEAR was founded with the express goal of producing a more weather-resistant loudspeaker than ever before; a speaker that brought living-room-quality sound to the outdoors. NEAR accomplished this goal by perfecting and patenting a critical driver design element called MLS (Magnetic Liquid Suspension). This science, combined with MDT (Metal Diaphragm Technology), provides exceptional audio detail in a compact size with complete weather resistance. NEAR high-fidelity, all-weather speakers have made quality sound commonplace in residential, commercial and leisure environs alike.
PARADIGM
Founded in 1982, Paradigm manufacturers innovative, industry leading loudspeakers using cutting edge audio science and technology. Designed, engineered, and crafted in Canada, in North Americas largest loudspeaker manufacturing facility, we offer a wide range of floor standing speakers, center speakers, in-wall speakers, bookshelf speakers, outdoor speakers and subwoofers. Exceptional craftsmanship and meticulous attention to detail allow us to deliver products that are unmatched in performance.
PRIMALUNA
The minds behind PrimaLuna, driven by Herman van den Dungen, possess a sincere desire to bring something unique to hi-fi enthusiasts, from beginners to tried-and-true audiophiles. They want people to feel that when they purchase any PrimaLuna, they've bought a truly special product. That when they open the box and take it out, they're thoroughly surprised by the beauty and build quality and that when they finally play it, they're completely swept away. PrimaLuna has pioneered numerous technologies to redefine tube amplification. From increased reliability and tube life all the way to their unique, signature sound.
SONOS
Founders John MacFarlane, Tom Cullen, Trung Mai, and Craig Shelburne, conjured a daring vision based on technology that didn't exist at the time. Fueled with the insight earned from success in the first phase of interned-based-business-building, they chose as their mission a new way to bring music to every home – wirelessly, in multiple rooms, from PCs and the Internet, with awesome sound. They hired an amazing team who built amazing products from scratch, and music devotees all over the world found a new brand to fall in love with. Sonos wireless speakers bring every room and everyone together with incredible sounds for music, TV and more.
VIVITEK

Vivitek, a brand of Delta, is a leading manufacturer of visual display and presentation products. The company's extensive lineup of award-winning digital projectors, collaboration and Digital Signage devices incorporate the latest innovation and technologies to deliver superior products. Vivitek has global sales and marketing operations in the Americas, Europe, Middle East and Asia and are renowned for providing the industries best warranties and innovative solution.


WOLF CINEMA
Wolf Cinema- delivering state fo the art filmic experiences for the discerning few. Wolf Cinema was founded by parent company SUMIKO in January 2008 and released their first line of reference home cinema projectors nine months later. In subsequent years the company has grown over 1000 percent and enjoys a strong reputation with dealers, sales partners, magazines, and customer around the world. Wolf Cinema successfully split off from SUMIKO in 2011 and is now a wholly owned, separate organization based in Berkeley, CA.
4SEATING
4seating.com is the leading provider of high-quality home theater seats, multimedia sofas, movie chairs, and home theater decor since 1997. Our mission is not simply to provide a piece of furniture to sit in; it is to provide an exciting centerpiece for gatherings of friends and family that will last through years of relaxation and enjoyment.