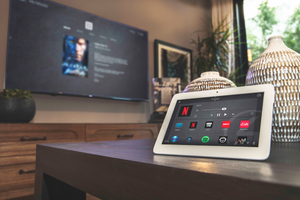 we make life better with technoloy
Imagine having a better experience in your home or office daily, using technology that's not
only seamlessly woven into your life and décor, but also easy to understand and use.  Systems that work. Mundane activities automated, so you never have to think about them. Just imagine
creating a haven of pure joy and relaxation, where you can connect or disconnect; and entertain family, friends, or coworkers. It's a place where you feel safe and never lose sight of, even when you're away from it. These are just a few things we aim for when designing and installing technology into homes and commercial spaces.

At Listen Hear, we are passionate about home and commercial technology that includes audio, video, home theater design, smart home automation, lighting, motorized shades and more. The "more" indicates the tireless curiosity that stems from this passion – it's what drives us to keep exploring the newest technologies and gets us
excited about finding the right solutions. Further, we love integrating different types of technologies to create experiences that are all encompassing and make life easier. Our family business was founded on more than 30 years of this passion and remains at the core of what we do.
Our Founders
Listen Hear was founded and continues to be led by husband wife team, Albert and Leslie Wurst, both natives of North Hills, Pittsburgh. Albert's love of technology started in his teen years, while researching and installing a car stereo system in his Z2 Camaro.  He was quickly hired by a local car stereo shop after impressing the owner with his knowledge and installation skills.  Barely out of high school, Albert was hired into the IT department at Federated Investors. This took him on a successful 33-year career in the IT industry, in which he learned to deal with complex systems. Albert never stopped learning and tinkering with tech in his spare time. In 2008, an opportunity presented itself, and a dream came true - Albert and Leslie were able to start Listen Hear, bringing all of Albert's passion and experience to a culmination. Today, Albert continues to be an active part of designing solutions, while Leslie leads administrative and marketing functions.  Their commitment and enthusiasm for serving our community remain steadfast, while inspiring our love of technology.
Our Process
Whether it's new construction, an existing home or commercial space, indoors or outdoors, we
believe that great relationships foster great work. It's the soul of a project. We start by really listening to your dream and working closely with a  multitude of other trade perspectives, such as the architect, builder, decorator, electrician and more. Only then do we create a plan that includes cutting edge technology, curated specifically for your space, and needs, along with design that works with the entire project. This plan serves as the blueprint for installation by our team of highly trained and experienced technicians.  We take pride in our work, especially installation, making sure it's all right and you fully understand your systems. After the project is over, we're here 24/7 for a lifetime.
ALBERT WURST
Owner, Senior Sales,
Tech & Network Specialist

LESLIE WURST
Marketing And Customer,
Vendor & Staff Relations
JOE SCIACCA
Senior Sales Associate &
Product Acquisition Manager
MIKE KLEIN
Sales, Service & Installation Tech
ALAN HALAPIN
Project Management
SHAWN DOWNS
System Designer, Sales
IAN LLOYD
Installation Tech
Hunter Carr
Installation Tech
DUDLEY JAMES RANDALL WURST
Senior Ball Retrieval Specialist