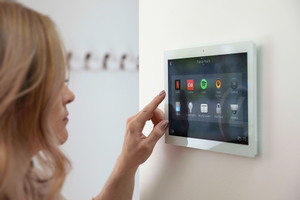 Lighting Control
Brand Partners
curated for cutting-edge tech & support
CONTROL 4
Control4 is a leading automation system for homes and businesses, offering a personalized and unified smart home system to automate and control connected devices including lighting, audio, video, climate control, intercom, and security. The Control4 operating system interoperates with tens-of-thousands of third-party products. Installation of the system is done by authorized dealers who install the hardware and configure and customize the software to unify and personalize the homeowner's technology.


URC
URC is the pioneer in Control Technology. The company provides state-of-the-art remote controls and complete home control and automation systems to residential and commercial clients, including some of the world's most respected consumer electronic brands. An experienced leader in high-quality control design, engineering, manufacturing and distribution, URC is widely regarded as an innovative controller manufacturer. URC has built its reputation by delivering exceptional levels of quality, training, reliability and support to its customers. 
Modular Lighting Instruments
Modular Lighting Instruments has been rewriting the rules for architectural lighting since 1980. It's in our DNA. We are renowned for innovative technology. Our outspoken bold and quirky designs. Our gutsy, creative and some might say "eccentric" campaigns. We don't think like any other lighting company. We don't act like any other lighting company. Many of our prize-winning designs have become icons in the industry. We are always pushing forward. Modularity is about creating one design that has multiple applications. Extending product families beyond what seems possible. Assisting, stimulating, and inspiring interior designers and architects, with almost limitless options. Our fixtures and linear lighting strengthen the architecture of residential homes, hospitality venues, shops and offices.