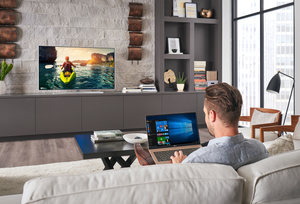 Flawless Connection
Supports Easy Living
A well designed Network is required
Networking
We live in a truly connected world, where multiple smart devices run on a single home network. A secure network is critical to integrating and seamlessly connecting these devices.
WIFI
A smart home requires a strong and fast WiFi network to manage multiple devices. Bandwidth is a key consideration to support streaming data, music, video and more. Multiple access points can be placed around your home to ensure a continuous connection and peak performance from your network.  A customized wireless plan will be created to meet the technology needs of your family.
NETWORK SECURITY
In this information age, the security of your personal information is critical. A secure network can protect your family while using the internet and visiting various types of sites. There are strategies such as using a password protected network and firewall to maintain security. Do not give anyone access to your private network. Establish a separate network for guests to use when they visit your hone.