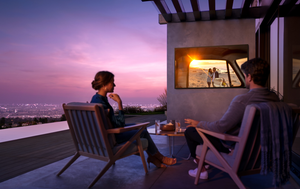 Relax, Work
& Play Outdoors
tech helps you take your home outside
Outdoor Living
Technology can enrich your outdoor living space. Extend your smart home beyond the doors and windows to your backyard.  Enjoy the convenience and luxury of seamless technology and entertainment outdoors.
AUDIO VIDEO
Extend the entertainment outside your home. As you move from indoors to outside, your favorite music will follow you. Specially designed outdoor speakers are strategically placed to deliver perfect sound quality.  Host movie night under the stars or watch big game on Sunday afternoon on a weatherproof TV or outdoor screen, created to withstand outdoor elements and deliver a clear picture any time of day.
WIFI
Stay connected while you enjoy time outside. Extending the WiFi network outside your home with outdoor access points will provide a seamless connection to all your smart home tech. Whether you are working in your backyard office or entertaining guests, you can join a video conference or stream your favorite movies or music without any disruption in your service.
SURVEILLANCE
Experience time in your back yard in comfort with a state-of-the-art surveillance system.  High-definition cameras are strategically placed around your home to monitor the activity both inside and outdoors. Access a real-time feed on your mobile device so you always know what is happening around your home.

LIGHTING
Add a bright glow or a pop of color to your home with outdoor lighting. A custom designed lighting system can change to match specific seasons or holidays or just light up your home to match your lifestyle. Enjoy relaxing in the pool or backyard patio at night or showcase your unique landscape design.  Choose from a selection of LED, flood and motion sensor lights depending on the area. 
MOTORIZED SHADES
The convenience of automated shades can be enjoyed in your backyard oasis. With the press of a button, the shades will go adjust. Drawing the shades will help avoid direct sunlight during the day or keep the warmth in on a cold night. Available in a variety of fabrics and materials specifically designed for outdoor use. Custom shades will add style and function to your outdoor space. 
AUTOMATION
Take the convenience and features of your smart home outdoors. Eliminate the need to go inside to change the music or lock the front door.  Control your audio, video, lighting, shades, surveillance and more from your mobile device or touch pad. Create specialized settings for an outdoor dinner party, backyard movie night, or game night.